Worried about the state of affairs in the world around you? Need a spot to regain some perspective? In San Francisco, The Interval is a bar, café, museum, and the home of The Long Now Foundation. Featuring a floor-to-ceiling library of the books you might need to, say, rebuild civilization, mechanical prototypes for a clock meant to last for 10,000 years, art that continually evolves in real time, and a time-inspired menu of artisan drinks. How's that for perspective?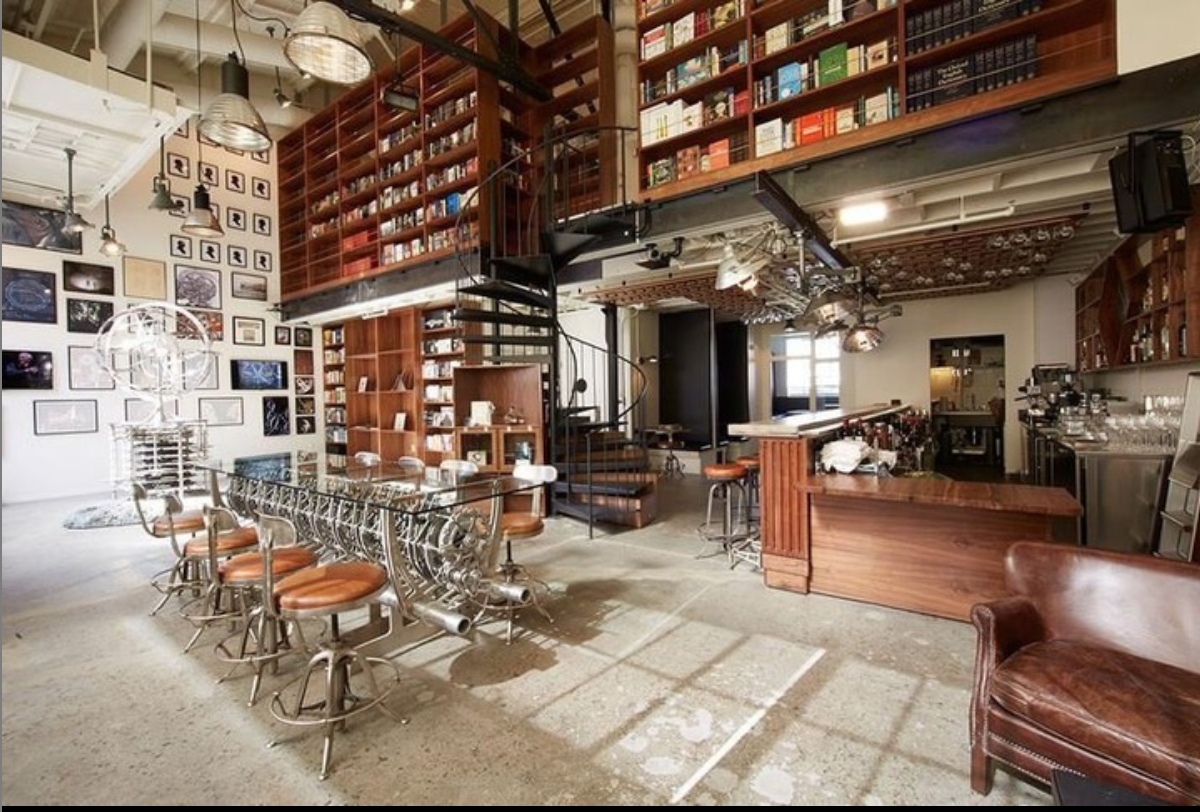 The Interval is located in San Francisco within Fort Mason Center, a campus of former military buildings near the Golden Gate. Its building dates to the 1930s, and much of it is original to when the room was a forge and machine shop.
Enjoy coffee or cocktails surrounded by ideas, books and mechanical wonders. Featuring unique, time-themed drinks and stunning views of the Golden Gate Bridge, The Interval is a space your guests are sure to remember. And they'll have a long time to do so (because the Long Now Foundation was established in 01996 to creatively foster long-term thinking and responsibility in the framework of the next 10,000 years).
The Conversations at The Interval are intimate, salon-style events centered around long-term thinking featuring renowned authors, scientists and artists. These conversations are enhanced by several unique features: The Clock, the Drawing Board, and the Bottle Reserve. The Interval houses Long Now's 10,000-Year Clock, for example. The Orrery, located by the front door, is a working planetary display. The Chime Generator prototype was designed to ring a series of 10 bells in a different sequence each day for 10,000 years.
"Otto" is a robotic chalkboard drawing machine by Swiss artist Jürg Lehni, and commissioned specifically for The Interval. It is often used in conjunction with their speaking events.
And you might notice that arranged on the ceiling above the bar, The Interval's Bottle Reserve features custom-made bottles filled with a selection of spirits made exclusively for The Interval by St. George Spirits.
This place actually boasts plenty more interesting features, but we don't really have time to list them all (Long Now may last 10,000 years, but our blog writers probably won't). Speaking of writers, the press is enamored: "The pioneering Long Now Salon has one of the coolest bars in this—or any—city, complete with salon talks and a library that could restart a civilization," says Liquor.com. And Wired adds, "It's equal parts salon, bar, restaurant, and museum where one can ponder the fragility of human civilization over a cappuccino...every detail possessing an interactive trick or a quirky, story-rich provenance."
And the Interval is a great place to host a meeting, reception or event. They have several options to fit your needs and would love to work with you to create a custom experience for you and your guests. Please keep in mind, the private spaces are available in increments of a few hours here and there; a full 10,000-year rental is likely out of your budget.