December is a wonderful time of year, bringing about the holidays that join our families and friends together from all over for great food and even better memories. As we reminisce about our own lives in 2019, we also look forward to a fresh start and a new plan for 2020. As the good times flow, so do the drinks. So much so that the hangover on the morning of Jan. 1 is bad enough where you have to push back your resolutions one more day. What's the best way to handle a New Year's hangover? With brunch of course! We'll look into the top spots in the Boston area for you to start your "new year, new me" journey on the unofficial first day of the new year (Jan. 2).
"Luck. Love. Life." Those are the words that Sonsie lives by. As you walk into Sonsie's cozy venue, you may be feeling lucky that you have some life left in you from last night's party. Sonsie has a selection of cocktails and mouth-watering brunch options, along with many gluten-free items, to help jump-start your day.
If you're a fan of Sonsie already, feel free to begin your New Year's Eve celebration here as they are offering several specials. You can begin your evening with an oyster and bubbly pairing, and entrees that include beef tournedos and roasted lobster. Take it to the next level and host your private event here as well!

Harvard Gardens

If your hangover is so bad that you feel that it may be a good idea to be near medical professionals, Harvard Gardens may be the perfect place for you. Located just across the street from Mass General Hospital, Harvard Gardens is a classy establishment that infuses both comfort and style. Along with a speakeasy-type bar (which had one of the first liquor licenses granted just after prohibition) and a selection of cocktails selectively designed to combat your hangover, you'll forget about the IV that's available just yards away. Go with the Punch Back cocktail to dull down your incessant headache, and finish it off with one of the many delicious breakfast options that they offer, such as the Harvard Gardens Sandwich, to finish the deal.
Even more reason to visit the restaurant, you won't even have to change when you wake up! Harvard Garden will be hosting a Pajama Brunch on New Year's day, where everyone is encouraged to arrive in their best jammies. And why not make everything a competition? Prizes are available for the best pair of pajamas worn. Best hangover ever!


The Alcove
If you love everything New England, then you're going to love The Alcove. Located on Lovejoy Wharf and just a short walk from the TD Garden (Go Bs! Go Cs!), The Alcove will provide you a brunch experience that's just as soothing as the ocean view. Chef Brian Pazsko has brought to life a unique experience, infusing Mediterranean fare with New England-sourced ingredients and flavors. Sustainability and freshness have never been a better duo until now.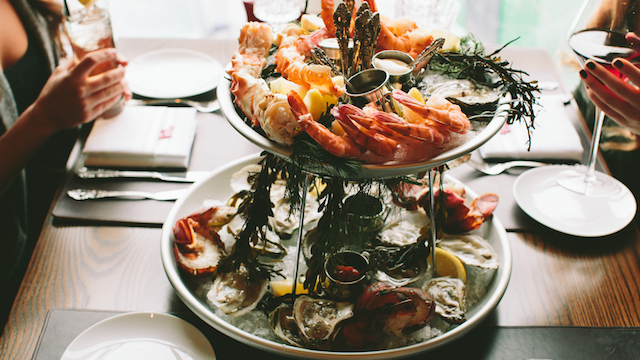 Being right on the wharf, it's hard to resist having some delectable seafood bites, including a raw bar and even a lobster and eggs main course. If you're feeling extra fishy, go all-in with the shellfish tower! To wash it all down, choose one of several carefully crafted cocktails, such as the Italian Service to bring down the bad vibes and to lift your spirits in the most delicious way.
Sometimes you have a hangover that only an extra helping of meat can solve. Mooo… will do just that. A modern and sleek steakhouse located just northeast of Boston Common, Sunday brunches are one of many of Mooo…'s specialties. Their venue is extremely warm and inviting, sheltering you from the cold of winter and the remnants of 2019.
If you're not feeling too hungry, go for the Steak Tartare or the Belgian Waffle. Feeling beefy? Try the Australian RIbeye, with eggs included. If you're feeling thirsty as well, Mooo… has a wine list of over 325 labels of all sorts of varieties and ages to satisfy any oenophile's preferred taste.