This year, we beseech you to go to the chapel, but it's not about getting married. It's about one of the most amazing and unique private event spaces in San Francisco: The Chapel, located in the heart of the Mission District's Valencia corridor. This historic music venue, restaurant, bar, and special event space was named one of the 10 most beautiful music venues in California by CALIFORNIA HOME + DESIGN MAGAZINE, and is the perfect venue for the event of your dreams. (Come to think of it, this probably would be a great place to get married.) Starting out as a mortuary in 1914, the space was beautifully renovated by veteran Bay Area restaurateur Jack Knowles, and now the original chapel — with its soaring, 40-foot arched ceiling — boasts features to, um, die for. (Come to think of it, this probably would be a great place for a wake, too.)
We recently attended a private bash (definitely not a wedding or a wake) featuring members of the English Beat, and we confess, it was a memorable evening. But if swinging to "Tears of a Clown" with your favorite '80s band isn't your cup of tea, The Chapel can provide sanctuary for a more intimate gathering. Consider supping with friends or colleagues at the Chapel Bar, the Chapel Restaurant, or at the Outdoor Patio.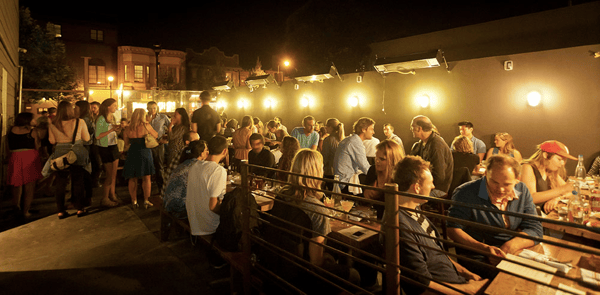 Whether you have 10 guests or 1,000, no matter what you're celebrating, The Chapel offers an incredibly versatile, all-encompassing event space with a full-time staff to personally oversee your event. Amenities include security professionals, dining directors, craft cocktail creators, a full scale audio/video/lighting system with production team, planning support, and an in-house executive chef producing creative, dynamic, and customized menus with ultimate aplomb and flair. Corporate parties, social celebrations, fundraisers, product launches, day and evening conferences, tour and travel groups, and media shoots; The Chapel's staff has produced and hosted them all.
Oh, and hanging bicycles. They can do hanging bicycle acts, too (if you're into that kind of thing).
So if you're looking for a heavenly spot to host your next event, get thee to The Chapel.