Despite the name, there is absolutely nothing punitive about San Francisco's flour + water. You aren't in trouble (despite the risky use of lower caps here), and no one will throw away the key. Quite the opposite, in fact, as GQ calls this popular spot "the neighborhood restaurant you want in your neighborhood."
Consistently ranked as one of the city's top restaurants, flour + water opened in 2009 and continues to serve a daily changing menu of house-made pasta exposing the regional variety found throughout Italy, Neapolitan-style pizzas prepared in a wood-fired oven, and carefully crafted dishes utilizing seasonal ingredients.
And you should feel free to host a group of friends who are also not in trouble, since flour + water offers a number of distinctive private dining options. The Test Kitchen--a culinary hub of information where flour + water's cooks are encouraged to learn and create, and where Executive Chef Thomas McNaughton tested his recipes for his cookbook--is transformed each night into an intimate and unique dining experience for up to 14 seated (though free to move about as they please) guests.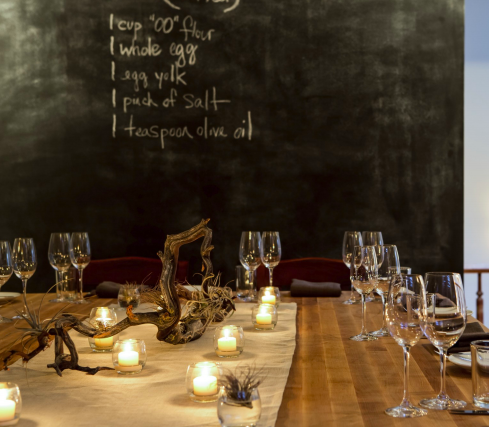 During the day, the Dough Room is where all of the fresh pasta for the restaurant is made. At night, the space turns into a private dining room for 16 seated guests, with a rustic and industrial vibe, and no warden-dictated "lights out" curfew.
And of course you can host a larger event (50 seated/70 standing) with a full buyout of flour+water. From intimate weddings to casual celebrations, this beautiful space is perfect for seated and standing receptions. No "Jailhouse Rock" jumpsuits required.